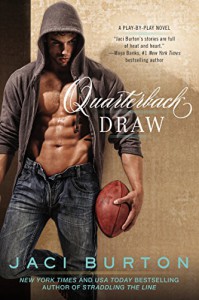 Quarterback Draw by Jaci Burton
Playing For Keeps
Grant Cassidy knows how to be a football star—flash that dazzling smile, throw the winning pass, get the girl. But while the hot quarterback loves the game and the lifestyle, no woman has come close to catching his heart. Then he matches wits with a smart, gorgeous model, and Grant finds himself wanting more than a fling.
Supermodel Katrina Koslova might live in a world of glitz and camera flashes, but she works hard to provide for the family that relies on her. She doesn't have time for fun—much less a boyfriend—but Grant seems determined to be the exception to Katrina's rule.
Their explosive chemistry is undeniable, but Katrina's afraid to let go and rely on anyone but herself. Grant intends to ease her fears and prove he's a man of style and substance
My review:
I thought Quarterback Draw was fantastic. I really liked Grant and Katrina together as they both felt their way through the beginnings of their relationship. Katrina was easy to relate to and understand because she was so much like so many women out there that haven't been in the dating field in so long that their lives are completely consumed by their responsibilities.
Grant doesn't make excuses or try to solve Katrina's problems for her and he doesn't make assumptions about who or why she is the way she is. He accepts her for the struggles she has to overcome and is simply there for her when she needs him. He's not overwhelming or over domineering which is something I liked through the story. He embraced and supported Katrina when she needed it and he gave her space when she needed it. I thought Quarterback Draw was a beautifully written story.
My Rating:
5 Stars
I received a print copy in exchange for an honest review from Berkley.